Join us when we dive
The Wrecks and Reefs Of West Palm Beach

We will be leaving Date to be Announced and return
Cost is $ per person
Call David or Sarah Fellows 803.750.1472 for reservations


Trip/Dive Guide
A Guide is an Instructor, Assistant Instructor or Divemaster leading a trip. Guides do not baby sit nor do they carry other's gear. They are there to provide assistance during the trip and during the diving.
Complaints about the hotel or a restaurant should be taken up with the management of the hotel or restaurant, not with the guide.
Complaints about the diving, the boat, the crew or the dive operation are to be brought to the attention of the guide as soon as possible. If you have any concerns about any aspect of the diving please feel free to say something to the guide immediately.
The guides will always be under the direction of the boat's captain, divemasters and crew while on board.
Tipping of the boat staff is encouraged. 10% to 15% is standard. There will be a 10% tip for the staff built into the package price. If you feel a staff member has done an outstanding job helping you please feel free to show your extra appreciation.
Health/Safety
Smoking places divers at risk of DCS and is discouraged.
Alcohol consumption is discouraged. We follow the Divers Alert Network (DAN) recommendations on alcohol. The first alcoholic drink of the day ends diving for that day.
Dehydration is a leading cause of DCS. Always drink plenty of water before and after each dive. You will lose about 2 quarts of water on each dive.
While diving is inherently dangerous, all reasonable safety precautions will be taken on all dive trips. Unsafe Behavior will not be tolerated.
The guides will take all reasonable actions to rescue a diver in trouble but will not jeopardize their own lives.
In all cases, the ability to dive rests with each individual. If you do not feel comfortable with diving conditions DO NOT DIVE.
Buddies are not needed before the dive trip. If you need a buddy we will make arrangements on the boat.
Buddies should have the same interests and diving goals in mind for each dive. If one buddy wants to watch small critters and the partner likes large critters there is the potential for problems. If necessary, change buddies if there are safety problems. We DO NOT believe in the same ocean, same day buddy system. Buddies should know each other's equipment. If your buddy is new to you, take time while on shore or on the boat to become familiar with each other's equipment. Remember your life may depend on it.
Our Policy is very clear. We dive to the least diver's ability. Any diver can and may abort any dive for any reason whatsoever without fear of someone making fun of them or giving them a hard time. If this is not your diving philosophy, do not join us. Under no circumstances will anyone pressure a diver into doing something they are uncomfortable doing. If anyone does this, inform the guide immediately. Diving should be fun and relaxing. If it is not, there is a problem and diving should be stopped regardless of cost or disappointment.
Air Rules
We observe the following air rules
The 50/50 plus 500

After subtracting a 500 psi-safety margin. Divide the remainder in half. Use the first half of your air going into the dive. Use the second half on the return to the starting point. Exit the water with 500 psi remaining. Keep your buddy in sight at all times. Follow the instructions of the boat staff for that particular dive site.
Diving
Drift Diving
For drift diving all divers will enter the water as quickly as safety permits. If there is a large group we will split into multiple groups. The guide will be last off and will be carrying a rope attached to a float with a dive flag attached to the float. We will descend as a group and will stay together as a group for the dive. Remember we are drifting. The boat will be following the float the guide will be carrying. For safety we need to stay together. If you lose the group, slowly ascend toward the surface stop for the safety stop at 15 feet and signal the boat when on the surface. We will start to the surface when the first diver reaches 800 psi. At 15 feet everyone will do a 3-minute safety stop. There will not be a downline on which to hang so watch your gauges. After the safety stop we will ascend as a group and the guide will signal the boat for pick-up. Watch out for the boat props. DO NOT approach the boat until the boat staff signals you to do so.
When drifting it is easy to get caught up in looking at the critters and the surrounding environment and lose sight of the group. Make an effort to constantly watch for the group. This is especially important at night. A recommended piece of equipment for ocean drift diving is a "come get me" float. This should be secured where you can get to it easily during the dive. If you have any questions, please feel free to ask the guide.
Itinerary
We will leave on Thursday April 6, 2000. The trip takes about 10 hours. We will be staying at the Days Inn on Singer Island about 2 miles from the boat dock. There is an IHOP restaurant in the hotel. The rooms are modest, and they like divers. Pets are welcome for an extra $10.00 per night (pet charge is not covered in the package price).
On Friday we will board the boat at 9:00am for a 3 tank/3 site trip with lunch. The rest of the day will be yours to explore the wilds of West Palm and the surrounding area.
On Saturday we will need to be at the boat dock at 11:00. We will leave for a 2 tank/2 site dive. We return around 3:00pm. Be careful with the alcohol, the Divers Alert Networks rule is the first alcoholic drink of the day means no more diving that day. We will be leaving at 7:30pm that night for a 1 tank/1 site night dive. The boat will be going out at 7:00am, 11:00am, 3:00pm and 7:30pm if you would like to book more dives in addition to those included in the package please make the arrangements with the Rampage staff while we are there. Watch your nitrogen and energy levels. Drink plenty of water.
On Sunday we will get up early to get to the dock by 7:00am for our final 2 tank/2 site set of dives. We will be back around 11:00am and will need to hurry to get back to the hotel for a shower since check out is at 12:00pm. I suggest everything be packed the night before except for traveling clothes. Late check out is not covered in the package price.
After check out we will be leaving for home.
The Costs
Cost for this trip will be $ 365.00 for 8 dives and 3 nights in the hotel (hotel cost is based on double occupancy)(All prices subject to change).
Cost for non-divers will be $ 20.00 for each boat trip.
Tanks, weights, and air fills (boat tanks only) are included in the package price.
If you want to bring your own tanks you are responsible for air fills. There is a dive shop between the hotel and the dock. Air Fills are $3:00 per tank. Air fills on the boat are for boat tanks only.
Nitrox fills and nitrox rental tanks are available at a dive shop between the hotel and the dock. Nitrox Fills are $6.00 per tank. Nitrox tank rentals are $10.00 per tank.
A deposit of $200.00 will be needed 30 days prior to the trip, with the remainder due one week before we leave. Cancellations made prior to seven days before the trip will receive 1/2 the deposit back. No refunds will be made for cancellations received seven days or less before the first day of the trip.
We will call West Palm the day before to confirm the weather and operational status of the boat. The night before another call will be made for a finial check. If we have to cancel because of weather a full refund will be made or it may be applied to a future trip.
To make reservations please call David or Sarah Fellows at 803.750.1472
Important West Palm Phone Numbers
Days Inn Ocean Front Resort 800.242.6368 local 561.848.8661
Rampage Dive Charters 800.525.0876 local 561.626.1003
Force-E Dive center 561.845.2333
Scuba Adventures 888.901.3483 local 561.691.5808
U. S Coast Guard Lake Worth Station 407.844.5030
Florida Marine Patrol - Violations and Injured Sea Turtles 407.624.6935
Palm Beach County Sheriff's Office Marine Enforcement Unit 407.732.4715
St. Mary's Hospital Hyperbaric Chamber
Treatment and Questions Hours M-F 8:00am to 5:00pm 407.881.2852 Treatment (after hours) 407.881.2900
Ocean Impact Foundation Injured Marine Life 407.439.3956
Manatee Hotline Injured Manatees 407.342.1821
Florida Dept. of Natural Resources Turtle Questions and Information 407.575.5408
The Rampage Dive Vessel
Boat
Rampage is one of the fastest, largest and most comfortable dive vessels on Florida's East Coast. She is a 50' Millercraft, certified by the U.S. Coast Guard to safely carry passengers. They are equipped with the latest electronics, an onboard compressor and a unique, padded swim platform for comfort. Their spacious salon offers premium protection from the elements for your AND your gear. The head (toilet to you landlubbers) is modern and very clean. WARM water showers, complete with shampoo and conditioner, are available after every dive along with complimentary fresh fruit, snacks and beverages.
Diving
Drift Diving in Palm Beach, Florida is unique. A constant influx of marine life makes each dive new and different. Beautiful coral reefs stretch along the famous Gold Coast, and ship wrecks are a photographer's dream. Explore and photograph colorful reefs, giant sea turtles, gentle reef fish, Florida lobster and shipwrecks like the Mitzpah, the Princess Ann and the USS Owens. Enjoy drift diving at its very best in warm, clear tropical waters. Here you will find the famous Rolls Royce at 90 feet, the statue of King Neptune, large loggerhead turtles, barges, reefs teeming with tropicals, our newest wreck, the Princess Ann, and much more. You will drift effortlessly along with the warm Gulf Stream and at the end of your dive, RAMPAGE is there to pick you up.
Beaches
The Palm Beaches are a study in contrast. Some of the world's richest celebrities live within a stone's throw on a busy seaport. The location is modern day Florida, but old Palm Beach architecture is 19th Century Mediterranean with a Caribbean flavor - a mixture so quaint that you cannot believe you are only one hour away from Miami. Rolls Royces are as common as pick up trucks
You will have a variety of hotels to choose from on the famous Singer Island. The beach side features fresh water swimming pools, ocean view rooms and more. You are close to beachfront shops, restaurants, quiet bars or noisy nightclubs. You may also stay on the mainland at many of our fine hotels. Some of the amenities these offer, besides lower rates, are clean rooms, swimming pools, nearby restaurants, tiki bars and the convenience of being in town.
Palm Beach is a shopper's Mecca. Gucci´s, Saks Fifth Avenue, and dozens like them line exclusive Worth Avenue (valet parking is available here). Not far away you can eat at Burger King or go bowling.
Popular topside activities are also available: dog racing, horse racing, water skiing, tennis, polo and golf (West Palm Beach hosts a variety of golf courses and clubs).
Unlike many of South Florida's beaches, those in Palm Beach are white sand, wide, clean and uncrowded
After a day of diving and swimming, try a harbor cruise aboard a riverboat or an evening on an ocean liner for gambling or dancing
Some Attractions found in and around the Palm Beach area
Dreher Park Zoo - West Palm Beach 407.533.0887 Adults $5.00 per person
Empress Dinning Cruises 407.842.0882 Day and Evening $7.95 to $10.00 per person Dinner $11.95 to $16.95 per person
Lion Country Safari 407.793.1084 Adults $11.95 per person
Palm Beach Cruise Line 800.841.7447 Adults $39.00 to $89.00 per person
Palm Beach Jai-Alai 407.844.2444 Open September to June Admission $.50 to $3.50 per person
Palm Beach Kennel Club (Grey hound racing) 407.683.2222 Admission $.50 to $2.50 per person
Palm Beach Polo and Country Club 407.793.1440 Admission $6.00 to $20.00 per person
South Florida Science Museum 407.832.1988 Admission $2.00 to $5.00 per person
And many, many more wonderful places to visit.
Artificial Reef Information
Most dive sites are a pleasant 15 - 20 minute boat ride from the dock to the water at the dive sites.
USS RANKIN/EVINRUDE MEMORIAL REEF
The Rankin is the largest ship intentionally sunk as an artificial reef on the East Coast. The huge 459 foot amphibious assault ship was put down during the summer of 1988. She rests on her side in 120 feet of water. The main deck is in 80 feet of water.
ESSO BONAIRE III
This 147-foot harbor tanker was sunk in 1989. The steel vessel was constructed in 1926. She lies in 90 feet of water.
MITZPH
The Mizpah is an old Greek Luxury liner, 185-feet long completely intact, lying in 90 feet of water. The vessel was sunk in 1968 to serve as an artificial reef and fish preserve. Therefore, spearfishing, shell collecting and lobstering are prohibited. Lying next to the Mizpah is a 165-foot patrol craft, the PC1170. The two ships rest on the bottom, side by side, right sides up. This dive site makes getting into wreck diving easy, safe, and fun. No lights are needed throughout most of the wreck because it is well exposed to light. All the doors have been removed and there are no loose cables. This has been done for the safety of divers. The wreck houses tons of fish and corals. Both sections of the wrecks abound with marine life as well as an impressive collection of spiny oysters. Nearby are the broken remains of a 65-foot wooden tug in 80 feet of water.
AMARILYS
This wreck is located just 300 yards northeast of the Mizpah; the Amarilys is a 441-foot steel freighter. Only its hull and lower deck remain. Because the wreck lies out in the open sand, it has become a home for many of the fish and marine life in the vicinity.
SPEARMAN'S BARGE
When people think of Palm Beach Wreck diving, this little barge doesn't always come to mind because of the Mizpah and the Amarilys. As a result, large game fish constantly surround the barge and never hesitate to great a diver. Everything on the barge is huge: there are morays, Tropicals, 50 to 100 pound grouper and, occasionally, a 300 to 400 pound jewfish. Shelling is quite good and a few rare specimens have been found. The barge is also full of spiny Oysters. Depths range from 65 to 75 feet. The barge is surrounded by natural reef. It was sunk in 1978.
OWENS
Sunk in December of 1985, the Owens is the largest addition at Site 2. Located just 5 minutes from the mouth of the inlet in 85 feet of water, the 125-foot freighter rests upright. The diver can drop down into huge cargo holds and exit the hull though large holes that were blown out by charges to sink the ship. Swim though the crew's quarters and look out portholes to see just how much marine life the ship has accumulated already. Algae and small sponges, corals and tiny gorgonians are beginning to adhere to the wreck since the second day of her sinking. Grouper up to 30 pound are seen on every dive. From her bow you can see both the Rolls Royce and the barge.
ROLLS ROYCE
Where else but in Palm Beach would someone donate a mint condition Silver Cloud Rolls Royce to kick off the county's Artificial Reef Committee? In the beginning, it was truly unique to see on the bottom a highly polished Rolls, complete with the hood ornament. Vandals have since seized the "lady" and the polish soon disappeared. Tiny lobster, now school under the hood.
SPANK"S BARGE
The Barge has been down since April 1985 and is loaded with Tropicals. Snappers congregate around the bow while nurse sharks and grouper hide under her prow. A group of divers can dive the barge, drift back and see the Rolls, then swim over and explore the Owens - all in one fantastic dive.
PRINCESS ANNE
Built in May 18, 1936, she's the most expensive ferry ever constructed in the United State. She's 350-feet long, a beam of 59 feet and could carry 120 automobiles. She comes to the West Palm waters from New Bedford and made her last run on the Chesapeake Bay on April 15, 1964. In 1979 due to her age she was sold to Mascony Transport and Ferry Service of New Bedford. She is also known as Greenport. She is positioned just 1 mile east of Palm Beach Inlet in 100 feet of water. Numerous tube and fan worms colonize the site. Tame Barracuda often allow divers to get near enough to take close up photos.
Natural Reef Information
There are a large number of natural reefs just off the coast minutes from the dock.
Flower Garden
One of the best natural reefs is the Flower Garden in 60-feet of water 1/2 mile off of the coast in front of the famous Breakers Hotel. This vast site provides the opportunity to see different areas with each dive. We dove this four times over three days and never saw the same area twice. Many Lobsters, Morays, Skates, Turtles, Tropicals and so much more are abound on the reef. The reef formation is mostly flat with fingers of coral and sand running perpendicular to shore.
More will be added here as we dive more.
Story from Capt. Bob of The Rampage
Mr. Big comes to town.
No, not the celebrity type, but a whale shark. That's right, a whale shark! Right here in Palm Beach. This giant of giants arrived with the snowbirds in late November. Changing weather patterns, currents, karma, fate - whatever the reason - it showed up on the last day of the month. Could you feel the excitement that Sunday morning? You bet!
We had just completed a drift dive on the Northern Double Ledges. While most divers were back on board removing their gear, several still remained in the water. Two seemed quite agitated, and we headed in their direction to make sure everything was all right. We could see both doing back strokes and kicking furiously to distance themselves from a pretty large animal. Completely unfamiliar with whale sharks, they thought they were facing an overgrown, 17-ft. tiger shark because of the animal's coloration and fearless behavior.
As the Rampage approached, experienced divers on board immediately grabbed masks and fins and jumped into the water before I could finish yelling "WHALE SHARK !!!". Open water students stood in shock, bewildered and probably thinking, "What's all the fuss about? Isn't this a bit of an overreaction?" They would soon learn that such a rare sighting under ideal conditions - flat seas, sunny skies and ultra-clear water - is truly the best Christmas gift any scuba diver could possibly get.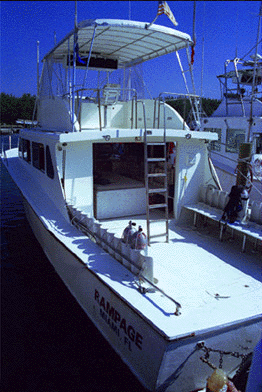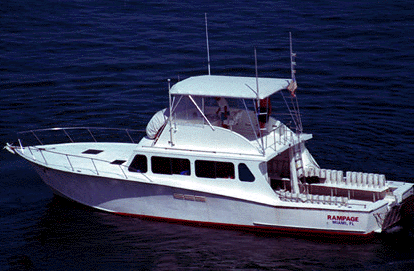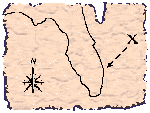 If you want to send us an e-mail for reservations or for more information -- click on the mailbox